Jeevan J. Pai, M.D.
Board Certified Gastroenterologist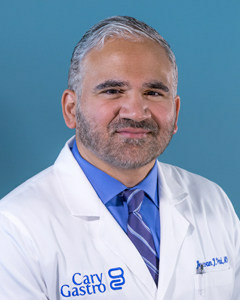 Joining Cary Gastroenterology in 2006, Dr. Jeevan Pai is Board Certified in Gastroenterology and Internal Medicine. He's a member of the American College of Gastroenterology and the American Society of Gastrointestinal Endoscopy.
Education
---
Dr. Pai is a Summa Cum Laude graduate of the University of Nebraska at Omaha, NB. He received his medical degree from the Nebraska Medical School in Omaha, NB. He completed his internship and residency at Creighton University, Omaha, NB. Dr. Pai completed his fellowship in gastroenterology/hepatology at Louisiana State University, New Orleans, LA. He has a special interest in GERD, colon cancer screening, clinical research, and capsule endoscopy.